The biggest change that people will see in 2023 is that Ernie Rutledge has hung up his oars. At the end of 2022, my father made the decision to retire from guiding after some 80 years and sold his business (Ernie Rutledge Guide Service) to Craig and Tina Hughson. The deal closed in March 2023.
Below: Ernie with Craig at Closing and Ernie with Tina at Closing.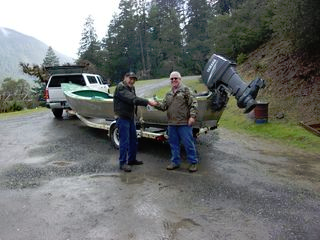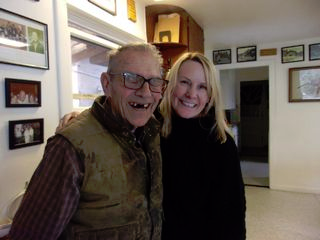 Why did Ernie choose Craig and Tina?
When Ernie decided to retire, he wanted to see our guests have the ability to continue fishing in our section of the Rogue as he had taught them. Ernie had taught many of them to cast flies – often coaching them on their technique for hours on the front lawn of Illahe Lodge. More than customers, his guests were friends. We wanted whoever purchased my father's business to run a good trip, be committed to the Rogue River, be a fit for how Illahe Lodge operates, and be able to go where the fish were.
We have known Craig for several years. Craig and his wife, Tina, own Rogue River Outfitters. Craig has a Coast Guard License and many years of experience guiding and outfitting on the Rogue River. Craig grew up in the river community. Craig met Tina when she was working at Paradise Lodge. They have been married for 33 years.
Most of Craig's canyon float trips are two nights so they don't stay with us. For the last few years though, Craig has had a few trips each year that added a third night and his groups have stayed with us on those trips. That gave my father and me the chance to observe Craig's trips, see how he operates, interact with Tina, and meet some of his guests. The trips have gone smoothly. A few years ago, Craig mentioned that, if and when my father decided to sell, he would be interested. When my father made the decision to retire from guiding, I reached out to Craig to see if he was serious.
Over the last couple months, we have talked with Craig and Tina to see if there was a way to make this work for everyone. My father. Craig and Tina. Our guests. The Forest Service. And the broader Rogue River Community. Recently, we finalized the agreement for Craig and Tina Hughson to purchase Ernie Rutledge Guide Service. Then, we had to wait for the weather to cooperate.
Logistics.
Reservations for guide services and questions about guiding should be directed to Craig and Tina at 888-767-3144. We anticipate that many of the guests who fish with Craig in our area will be staying with us at Illahe Lodge. Craig and Tina can set that up for their guests. We'll work with Craig and Tina on meal times and other preferences.
I'll continue handling reservations for lodging and meals on trips that don't involve guide services and commercial trips brought by other outfitters. I can be reached at 541-247-6111.