One of the changes for 2017 is the addition of a weather station at Illahe Lodge so we are able to track the amount of rain, high and low temperatures, wind direction and speed, and humidity. We had quite a bit of rain in January, although it didn't seem like it was anything out of the ordinary.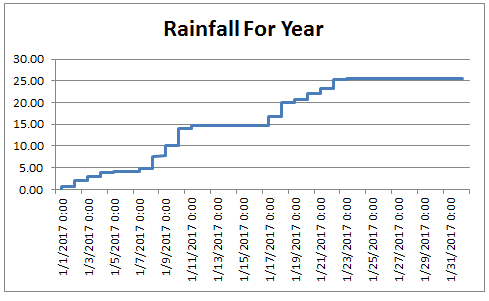 We have been busy pruning apple trees and that project is almost done. (We just have one of the old trees left to prune.) Most of the eight gravenstein trees that we planted in 2015 each produced a few sample apples in 2016 and we will be letting them produce more apples in 2017. We planted a Hudson's Golden Gem, Dorsett Golden, two Coos River Beautys, two Wintersteins, a Spitzenburg, and a Mendocino Cox in 2016 and they will be allowed to have a few sample apples this year.
We will be planting a different strain of gravenstein, a Brown Russet, and a Red Boskoop in a few weeks. If all goes as planned, we will be adding Orenco, Grimes Golden, Braeburn, Sierra Beauty, and Rome Beauty trees when the winter rains arrive this fall.