After a busy fall, we've seen the Rogue come up several times, including once where – in our area – it was higher this year than it got during 2015. Things are a little slower at Illahe Lodge in the winter. When weather or the river permit, guests are coming in to relax and go fishing. In addition, we hosted a group of ultrarunners over New Years. A second group is planning to come in March, weather permitting. For those of you who are interested in ultrarunning, our ultrarunning guests usually leave Galice in the morning of the first day, arrive at Illahe Lodge in the afternoon, spend the night with us, and then run back to Galice the second day. They say that this is a great way to spend the weekend. Some of these guests use Rogue as a training run for their races.
In addition to providing lodging to guests, we are also working on several projects at Illahe Lodge. With the rain, a few trees have fallen down and we are waiting for the weather to dry out enough that we can clean up the debris. One of the guides who helps us with big trees will be in to help us deal with that, when the weather cooperates. In addition, the tree pruning has started. Some of the guides are planning to come in and help us with the tree pruning. Here too, we have to wait until the weather cooperates.
In terms of indoor projects we are also working on the orchard plan that we started last year when we planted eight gravenstein (apple) trees, three crabapples, and roughly 20 fig trees. This year, we are planning to plant a variety of additional apple trees (including Hudson's Golden Gem and Coos River Beauty – two apple varieties that were discovered in Oregon). We'll be planting two peach trees, strawberries, and some blueberries as well. Other plans that we are working on include creating a covered smoking area for our guests.
Hope we see you on the Rogue in 2016! Illahe Lodge is open year around. Reservations are required. Give us a call if you are looking for a place to stay in the area and are looking for a country home environment.
The Rogue River on January 28, 2016.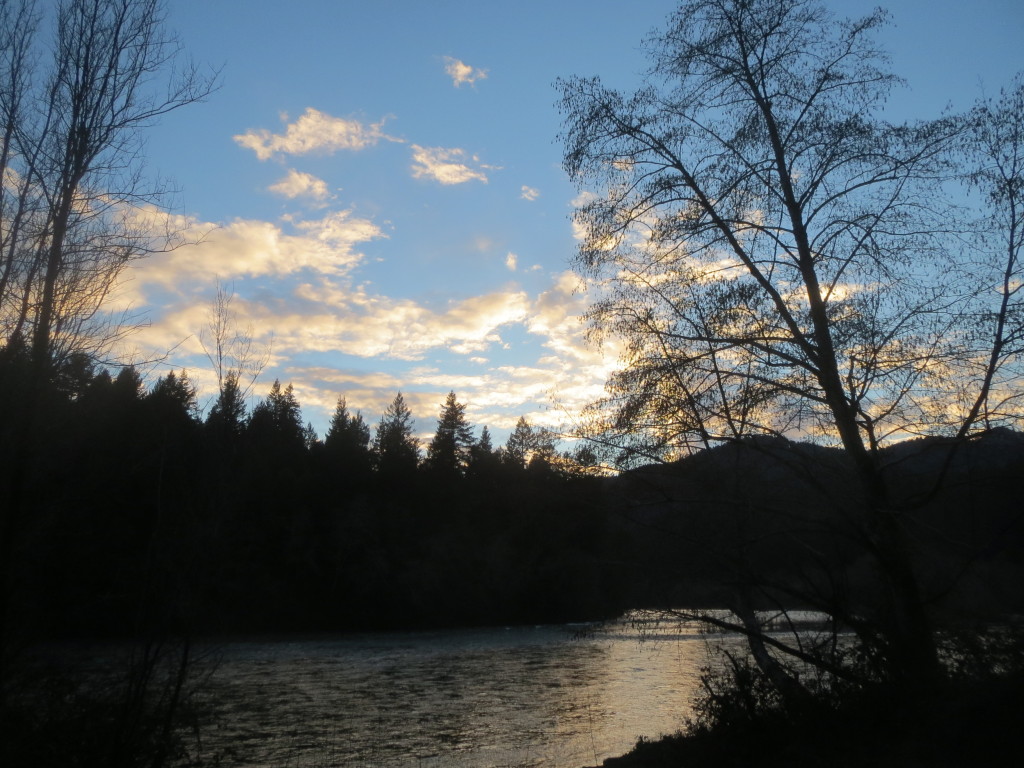 The transparent apple tree that was planted by E.J. Schneider (my great-grandfather).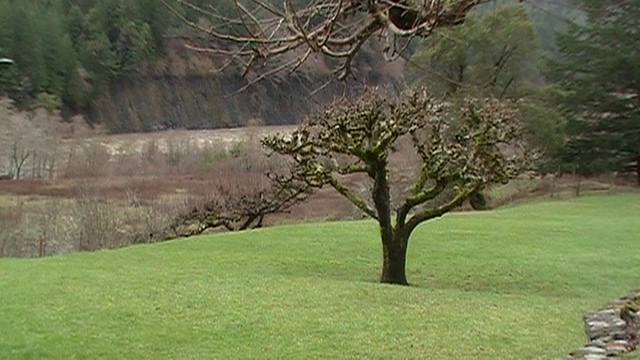 A look at Illahe Lodge from the gate to Big Bend Pasture.