Illahe Lodge is located on the Rogue River in southwestern Oregon.  We are located between Watson Creek and Foster Bar. 
At Illahe Lodge, we provide meals with lodging to people visiting the Rogue National Wild and Scenic River.  Illahe Lodge has public electricity, wireline telephone service, and year-around road access.  Reservations are required.
Illahe Lodge (originally known as "Schneider's Lodge") was built by E.J. and Florence Schneider in the late 1930s and early 1940s as their retirement home.  Illahe Lodge is both our family's business and our family's home. 
What you can expect
Illahe Lodge is a large country home.  At Illahe Lodge, you have a bedroom in the home and share the living room, dining room, porches, and lawns.  The bedrooms are located in two buildings.
When you stay with us, you aren't just a customer.  You are a guest in our family home.  Many of the rooms have needlework pictures – as might be expected in a family home.  Those pictures were stitched by my mother and grandmother on dark winter days when it was cold and wet outside.  When time permits, my father and I sit and visit with our guests, share stories, and answer questions.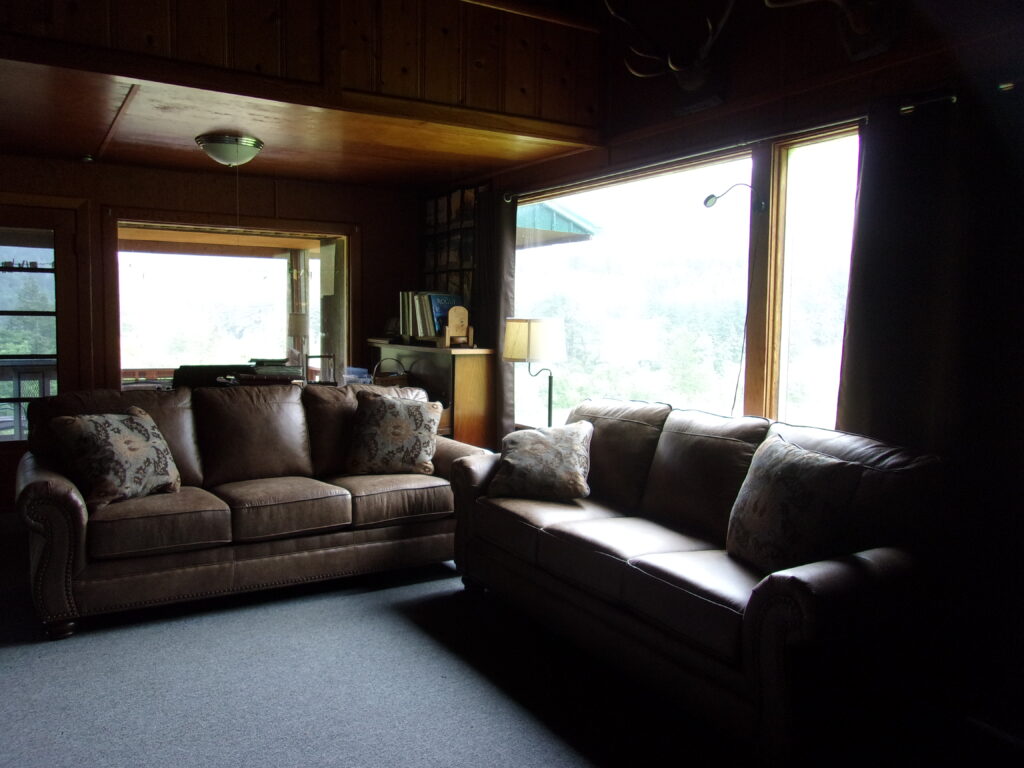 Bedrooms
We have one bedroom with a bathroom downstairs.  This bedroom is used by guests who having difficulty climbing stairs.  The remaining bedrooms are located upstairs.
In the main lodge, the bedrooms have either a queen bed (some also have an extra long twin bed) or two extra long twin beds.   The bedrooms in the main lodge each have their own air conditioner.
In the second building (referred to as "the annex"), the bedrooms have double beds or standard twin beds.  The guide room is located in the annex.  The annex has an air conditioner in the hallway.
Each bedroom has its own designated bathroom with a shower.  (Most bathrooms are accessed from within the bedroom.  Bathrooms for bedrooms that have a queen and an extra long twin are accessed from the hallway outside the bedroom.)
Bedrooms are usually double occupancy.  The rooms with one bed are often used by couples or when a guest is traveling alone.  If a single room is required, please let us know when making your reservation.
The first bedroom below is Room 1 of the main lodge.  It has two extra long twin beds.  The second bedroom below is the Downstairs Bedroom which is also located in the main lodge.  That room has a queen bed and an extra long twin bed. The third photograph is of a guest room in the annex.  The guest room shown in the picture has a double bed and the room has its own air conditioner (rather than just relying on the air conditioner in the hallway).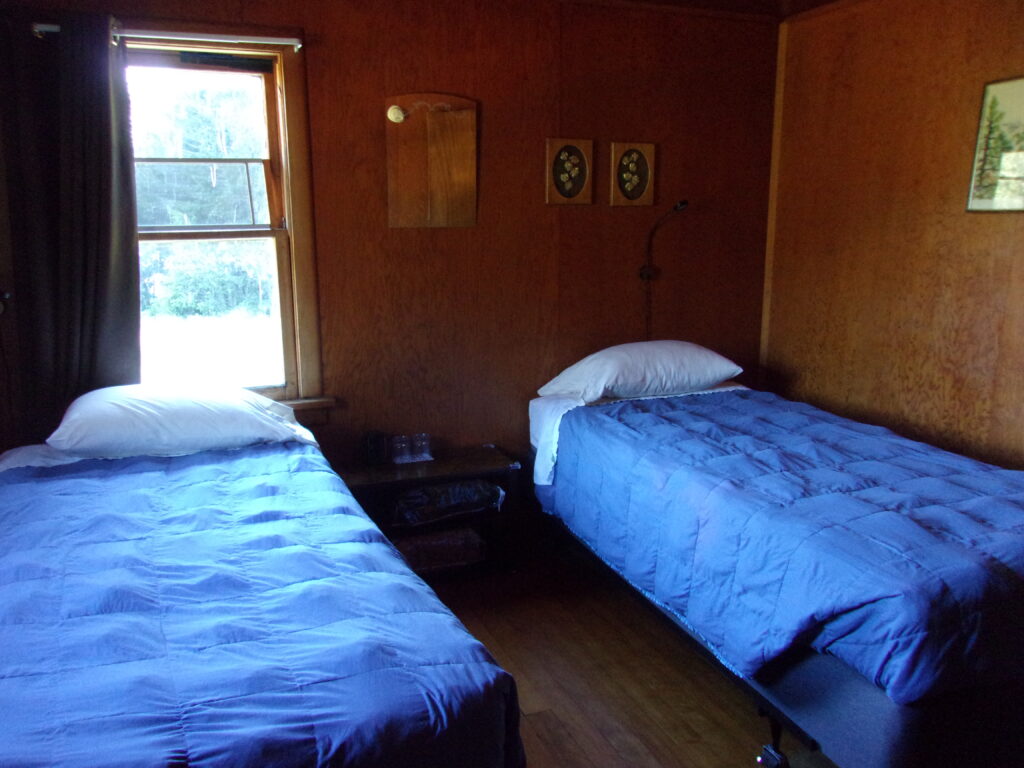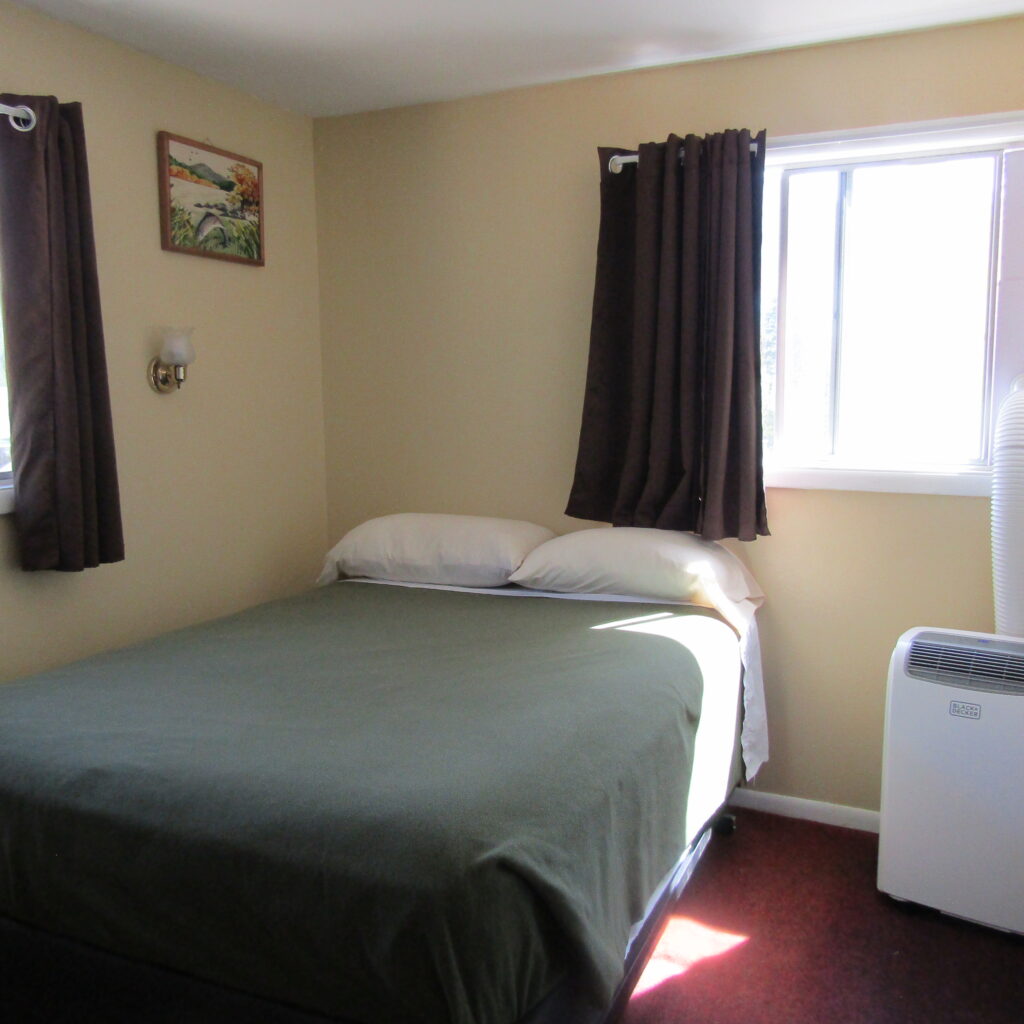 Meals
Meals are served "family style" in bowls that are passed.
Meals feature produce grown at Illahe Lodge when it is available.
We provide coffee, tea, milk, ice water, juice (at breakfast), and lemonade (on warm afternoons/evenings).
Guests are welcome to bring soft drinks and alcohol, if desired.
Dessert is provided at lunch and dinner.
A sack lunch or dinner can be provided with advanced notice.
We work with our guests on meal times and special diets.
Illahe Lodge uses nuts, dairy products, wheat, eggs, soy, and other common ingredients in our food preparation and in our kitchen.  That said, we are often able to work with guests who have special diets (vegetarian, vegan, wheat-free, low sodium, etc.) with advanced notice so please discuss this with us when making your reservation.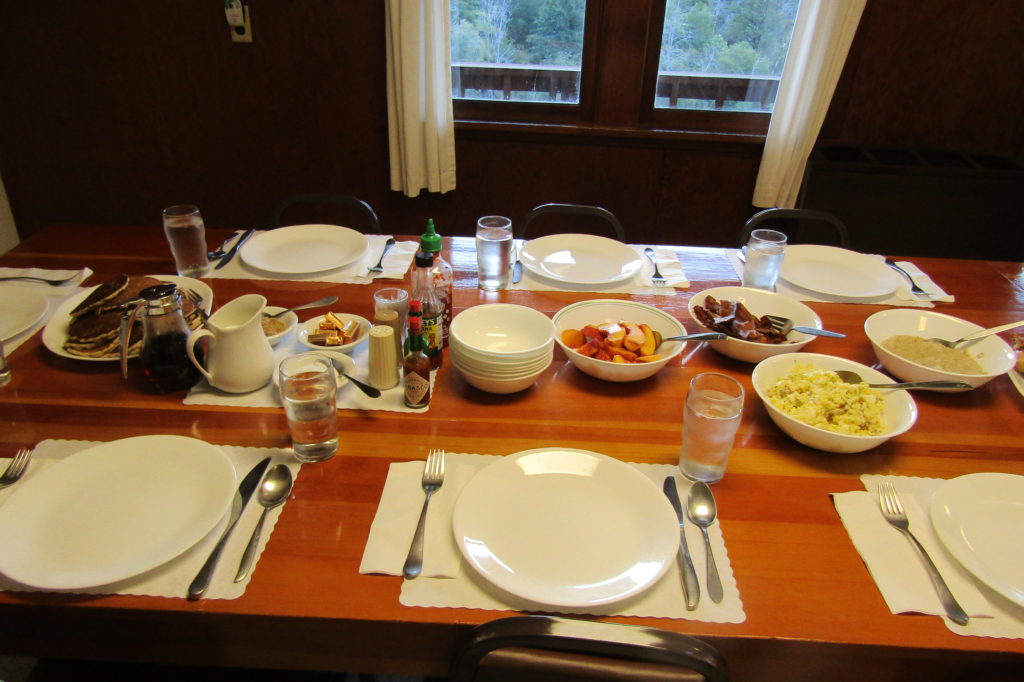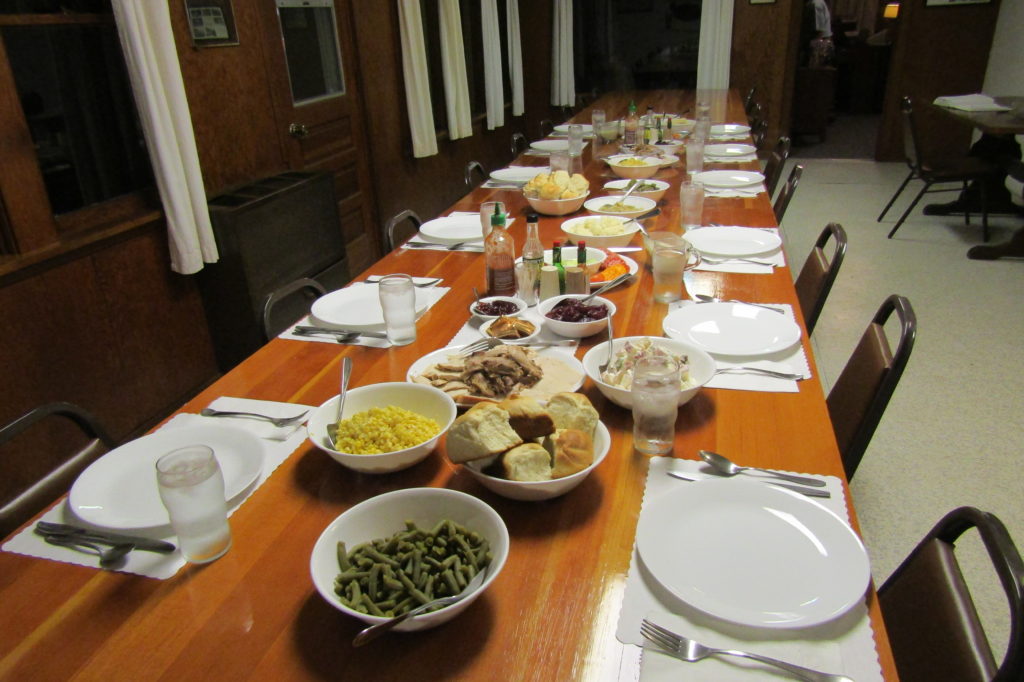 Alcohol and Tobacco

Illahe Lodge is a family environment.  We ask our guests to conduct themselves at our house as we would conduct ourselves if we were guests in their homes. 
We do not provide alcohol of any kind.  Guests wishing to do so may bring alcoholic beverages of their choice and enjoy them in moderation during their stay.  We do not charge a corking fee.  (Guests are also welcome to bring soft drinks, if desired.)
Guests are welcome to smoke (tobacco only) in our designated smoking areas.  We ask guests to refrain from vaping while on Illahe Lodge property. 

Parking
Current guests are welcome to park, have their vehicles shuttled to/from, and meet their parties at Illahe Lodge.  
We are unable to accommodate requests from the public to park at Illahe Lodge.  Public parking is provided by the Forest Service at the trail head for the Rogue River Trail and at Foster Bar.
Rates and Reservations

The rate to stay at Illahe Lodge in 2023 is $190 per person per day.  This breaks down to $80 per person per night for lodging and $110 per person per day for "everything else" (meals, amenities, stories, Internet, produce, baked goods, use of the telephone, items that have been forgotten, use of the washer and dryer, poison oak soaps, burn ointments, use of lacrosse balls/muscle rollers for sore muscles, use of emergency clothing, insect repellent, etc.) except guide services.  State and county lodging taxes are included in the rate.  
Reservations are required.  Guests often make their reservations for the fall several months to a year in advance.  Reservations for the winter, spring, and summer should be made at least 10 days in advance to allow us time to prepare for your stay.  A 50% deposit may be required to confirm reservations with the balance due on departure from Illahe Lodge.  We accept cash and personal checks.  No credit cards please.

Farm Produce and Baked Goods

Sometimes, we have extra produce (apples, figs, tomatoes, grapes, etc.), extra tomato plants, and spices that are grown at Illahe Lodge or extra bakery-type items that we have made such as cinnamon rolls, cookies, and carrot cake.  We share a reasonable amount of these extra items with guests staying at Illahe Lodge at no additional charge.  When we have extra items that aren't needed at Illahe Lodge, we sometimes offer them for purchase by the general public.
Schneider's House

In the summer of 2019, we purchased the house that E.J. and Florence Schneider ("Grandpa Ernie" and "Grandma Florence") built after selling Illahe Lodge to their daughter and son-in-law and their grandson.  Guests who have stayed at Illahe Lodge previously may be allowed to rent part of the house for blocks of at least three days.  Please contact us directly for more information.