The Rogue National Wild and Scenic River is located southwestern Oregon.  Its headwaters are located in the High Cascades near Crater Lake.  From there, it flows through the Coastal Mountains to the Pacific Ocean, a distance of approximately 215 miles.  When the National Wild and Scenic Rivers Act of 1968 (16 U.S.C. 1271 et seq.) was passed, 84 miles of the Rogue River (beginning seven miles west of Grants Pass and extending to eleven miles east of the mouth of the Rogue at Gold Beach) was included in the National Wild and Scenic Rivers System.  The National Wild and Scenic Rivers Act, declared that it was "to be the policy of the United States that certain selected rivers of the Nation which, with their immediate environments, possess outstandingly remarkable scenic, recreational, geologic, fish and wildlife, historic, cultural, or other similar values, shall be preserved in free-flowing condition, and that they and their immediate environments shall be protected for the benefit and enjoyment of present and future generations." (16 U.S.C. 1271)

The Rogue is famous for its fishing, white water rafting, and trail.  One of the unique features of the Rogue is that people can float or hike from Grave Creek to the Illahe/Agness area and stay at a different privately-owned and operated lodge each night.  Illahe Lodge is one of just six lodges between Grave Creek and Foster Bar.  Illahe Lodge located between Watson Creek and Foster Bar.

At Illahe Lodge, we provide meals with lodging to people visiting the Rogue National Wild and Scenic River.  Illahe Lodge has public electricity, wireline telephone service, and year-around road access.  Reservations are required.
History
Illahe Lodge is a fourth generation family business and our family's home.  In the late 1930s and early 1940s, E.J. and Florence Schneider started  building their retirement home.  During construction, their friends started talking about coming to the Rogue for extended vacations.  When the construction was finished, they had both a retirement home and a business, "Schneider's Lodge."  From the beginning, Illahe Lodge (as we know it today) was both a home and a business.  It continues to serve both roles today. 
Guests
We work with groups and individuals who come to the Rogue River to fish, hike, run trails, raft or float the Canyon, and relax.  We also host private events such as family reunions.  Our guests are encouraged to relax and reconnect with friends and family during their stay with us at Illahe Lodge.
Accommodations
Illahe Lodge is like a large farmhouse.  The guest rooms are located in two buildings.  Guests share use of the living room, dining room, porches, and lawns.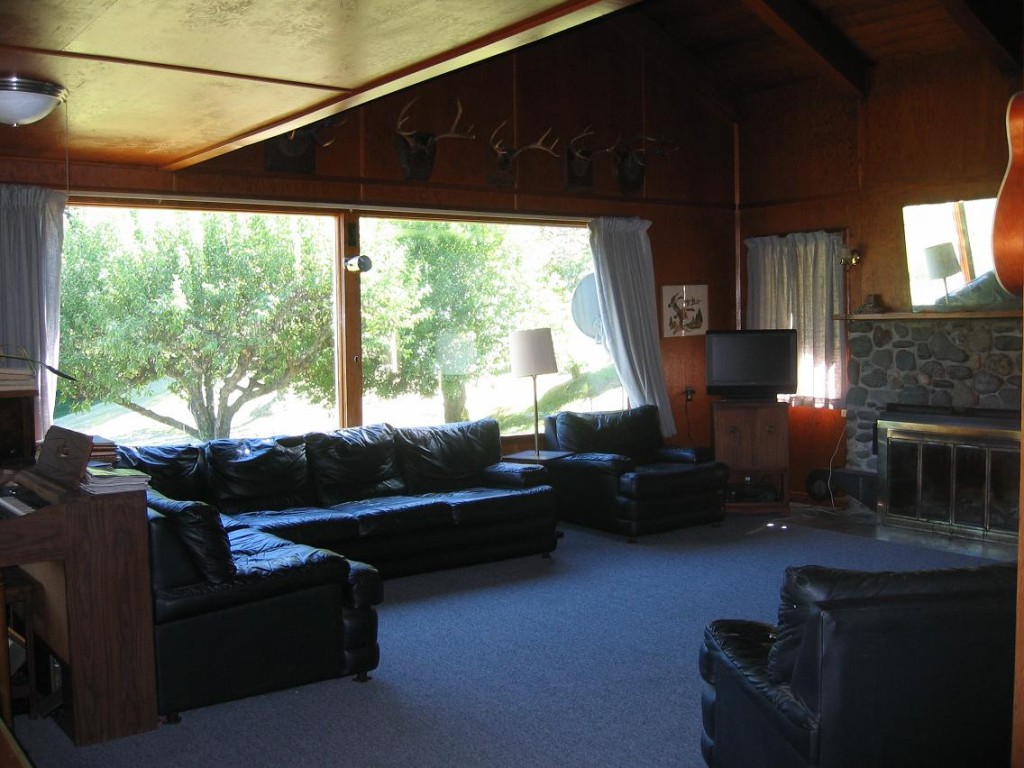 We have one guest room and bathroom downstairs and it is used by guests having difficulty climbing stairs.  The remaining guest rooms are located upstairs.
In the main lodge, we have:
2 guest rooms with one queen bed/room
2 guest rooms with two extra long twins/room
3 guest rooms with a queen bed and an extra long twin
In the annex, we have
2 guest rooms with one double bed/room
1 guest room with two standard twin beds
1 guide room with five standard twin beds
Each guest room and the guide room has its own designated bathroom with a shower.  (With the exception of the rooms with a queen bed and an extra long twin, all of the bathrooms are accessed from within the guest room.)
Meals
Meals are served "family style" in bowls that are passed.
Meals feature produce grown at Illahe Lodge when it is available.
We provide coffee, tea, milk, ice water, juice (at breakfast), and lemonade (on warm afternoons/evenings).
Guests are welcome to bring soft drinks and alcohol, if desired.
Dessert is provided at lunch and dinner.
A sack lunch or dinner can be provided with advanced notice.
We work with our guests on meal times and special diets.
Illahe Lodge uses nuts, dairy products, wheat, eggs, soy, and other common ingredients in our food preparation and in our kitchen.  That said, we are often able to work with guests who have special diets (vegetarian, vegan, wheat-free, low sodium, etc.) with advanced notice so please discuss this with us when making your reservation.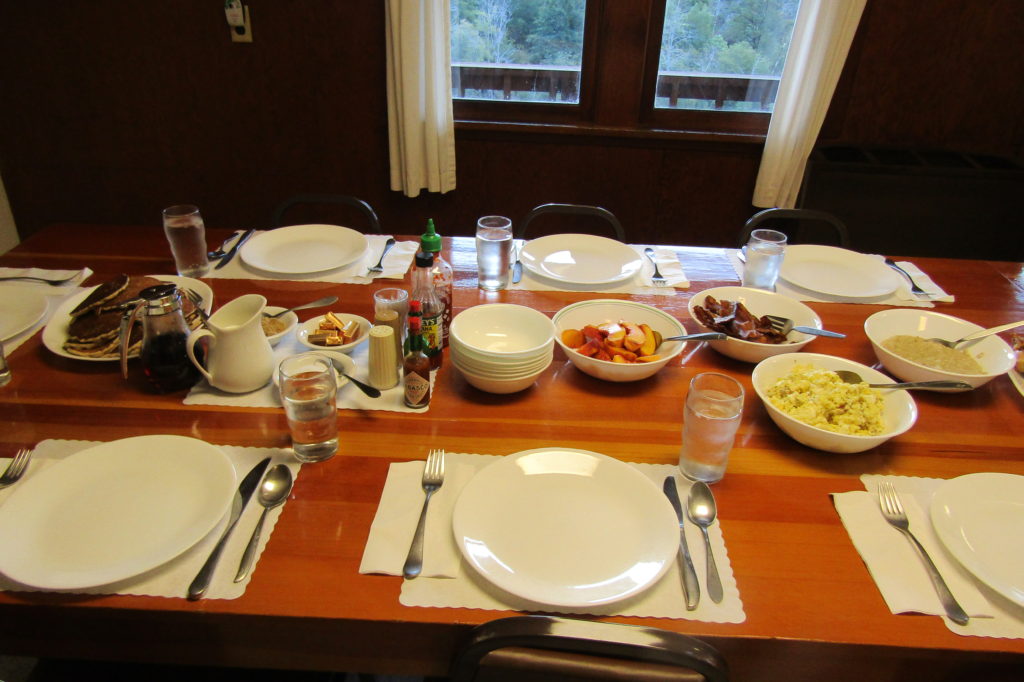 Parking
Current guests are welcome to park, have their vehicles shuttled to/from, and meet their parties at Illahe Lodge.  
We do not have public parking.  Public parking is provided by the Forest Service at the trail head for the Rogue River Trail and at Foster Bar.
Reservations
Reservations are required.  Guests often make their reservations for the fall several months to a year in advance.  Reservations for the winter, spring, and summer should be made at least 10 days in advance to allow us time to prepare for your stay.  A 50% deposit may be required to confirm reservations with the balance due on departure from Illahe Lodge.  We accept cash and personal checks.  No credit cards please.
New for 2021
In the summer of 2019, we purchased the house that E.J. and Florence Schneider ("Grandpa Ernie" and "Grandma Florence") built after selling Illahe Lodge to their daughter and son-in-law and their grandson.  For the fall of 2021, a few guests who have stayed at Illahe Lodge previously may be allowed to rent part of the house for blocks of at least three days.  Please contact us directly for more information.